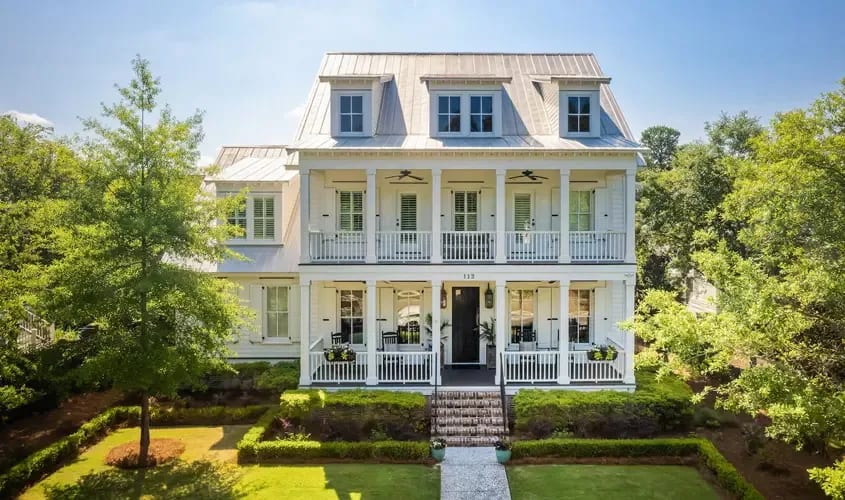 Buyers want to know what is going on with the Charleston real estate market now. Given the last two years of historic price growth, many are concerned that they're buying at the top of the market and could be underwater on their investment if the market takes a sudden downward turn. Others want to wait to see if the market drops so they can get a deal.
When the market is shifting, it's important to look at the data when making decisions, assess long-term trends in your region, and keep micro-market factors in mind.
Here's what we know today. Inventory is up from the historic inventory lows over the last two years; it has nearly doubled since February. And demand nation-wide has cooled due to rising mortgage rates, inflation, and lowered affordability in "hot" housing markets like Charleston. Nationally, the costs of buying a home are 80% more expensive than three summers ago. So it should come as no surprise we are seeing the housing market return to equilibrium by increasing buyers' power in transactions.
In short, we are returning to normal.
What Does This Look Like?
The market is shifting to give buyers more power than in the previous historic seller's market. This shift will mean that sellers can no longer "name their price," eliminate many common contractual contingencies in purchase contracts, expect to receive multiple offers to compete against one another, and pressure the market for all-cash offers. Buyers will have more options to purchase given that more inventory is on the market and that inventory will generally stay on the market for longer periods of time as average DOM (Days on Market) increases.
That said, buyers should not be under the impression that home prices will go back to pre-2021 levels – there is simply too much demand to live in Charleston, and the increases of the last few years have been driven by stable (and in some cases increasing) residential market forces.
Is It a Good Time to Buy a House in the Charleston Area?
If you plan to flip the house quickly for a profit, then no. (In fact, I think there's never really a "good" time for that unless you possess an expertise that allows you to add immediate value to a home in a cost-effective manner, such as a contractor that renovates homes).
If you plan to live in the house or hold onto it as an investment property, then I say yes, it is a good time to buy in the Charleston area.
It's true that house prices in the area have risen dramatically, and homes are less affordable than before. Charleston's Housing Affordability Index – an industry scale where higher scores mean more affordable, lower scores mean less affordable – dropped from 107 a year ago to 68 today. Clearly, the ideal time to buy was a year ago (or even better, a decade ago – a $500K home on Daniel Island purchased in 2012 would be worth about $1.5 million today!).
But, as the saying goes, "The best time to plant a tree is 20 years ago; the second-best time is now." I believe the same is true for buying a home in the Charleston area. Home prices are relatively stable for now, neither likely to keep rising dramatically nor drop precipitously, so it's a good time to buy a home if you want to be in the Charleston area.
If I Buy Now Will My Home Keep Its Value?
I can't predict the future, of course, but there's good reason to believe that homes in the Charleston area will keep their value and, apart from inevitable market fluctuations along the way, will continue to grow.
Even as we move towards market equilibrium, Charleston still expects to see modest gains in home prices for the near foreseeable future. The National Association of Realtors® forecasts that the Median Sales Prices of Homes in 2022 will increase by 11% – and the Median Sales Price in 2023 increasing by 2%.
As for long-term prospects, the incredible growth in Charleston's home values over the last decade, and particularly the last few years, doesn't tell us exactly what will happen in the coming decades. But the things that have made Charleston attractive to so many people moving into the area, like the weather, taxes, and lifestyle, haven't changed. It's likely that people will continue to come here, especially as recent societal shifts, such as increased flexibility to work from home, allow more people the freedom to move where they want. The South's population is projected to grow by 50% over the next 20 years (compared to 4% growth in the Northeast), which is a good indicator that homes here will retain and most likely increase their value.
Work With an Experienced, Knowledgeable Realtor® to Find Your Dream Home
Buyers have had a tough time in the Charleston real estate market over the past 2 years, but it looks like that's turning around. If you're looking for a house in the greater Charleston area, I'd love to help you. My name is Kenton Selvey and I'm an experienced Realtor® with William Means who helps people find their dream homes on Daniel Island, Mount Pleasant, downtown Charleston, and beyond.