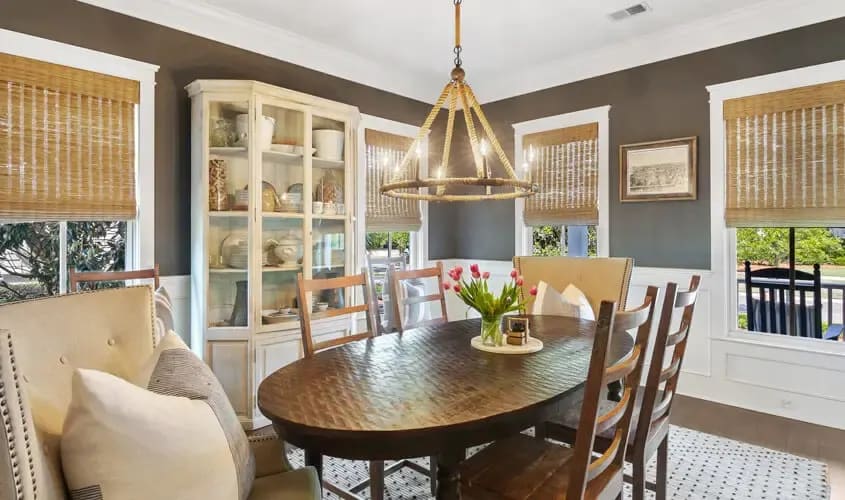 As the historic seller's market we experienced over the last 2 years shifts back toward equilibrium with buyers, it's important for home sellers to shift their sales strategies. If you want to sell your home for top dollar, try these six smart tactics today.
Market Your House
At the height of the market, many houses sold in a matter of days without needing any promotion beyond a listing on the MLS. Now, the smart move is to market your home and get the word out.
Work with your real estate agent to come up with a marketing plan. It might include open houses, professional photos, a video walk-through and/or virtual tour, paid ads in high moveout states, social media posts, and so forth.
Target the Right Buyer
The details of your marketing plan will depend on your ideal buyer. Your real estate agent should have enough experience in the local market to know exactly which buyers to target. Depending on the property, the "right" buyer could include:
Cash buyers. The market has seen the highest percentage of all-cash buyers in 10 years.
Vacation home/second home buyers. A high number of buyers are purchasing a second home so they can split time between properties in different locations.
Buyers from out of state. Every day, dozens of people move to Charleston from another state. The right buyer for your home may not be local.
Demand is still high so there are plenty of buyers, including many who missed out on getting a home during the peak sellers' market. They are motivated to buy; it's just a matter of matching the right buyer with the right property – hopefully yours.
Stage Your Home With a Lifestyle Focus
Staging your home to show it off at its best is always a must. But in a place like Charleston, think about staging in a way that not only showcases your home but highlights the Lowcountry lifestyle, too. After all, people moving here from all over the country choose Charleston for the Southern charm, outdoor living, beach life, and so forth.
What does this look like in practice? Some ideas: Play up outdoor spaces like pools, outdoor vistas, front porches, back decks, and yards with rockers, rocking chairs, wicker, and other outdoor furniture. Include local flowers like azaleas, camellias, and gardenias in your decorating and landscaping. Focus your time, money, and effort on staging the kitchen and the main living area so potential buyers can imagine themselves entertaining and relaxing there. Once again, this is an area where an experienced real estate agent can help you.
Price It Right
Prices changed so quickly at the top of the market that sellers and real estate agents had a hard time keeping up. Now, with the market making a correction, it no longer feels like picking a sales price is akin to shooting a bullet with a bullet. Home prices are stabilizing which helps take some of the guesswork out of pricing in this market.
While you can still expect to get a great price for your home, be realistic and don't overprice. Work with your real estate agent to evaluate comps (i.e., what other comparable homes nearby have sold recently) and the pluses and minuses of your particular property to find the right price.
Be Patient
Average DOM – Days on Market – is increasing. It's important to know that this is not a sign of the Charleston real estate market collapsing, but simply an indication that it's returning to normal market conditions!
This means you should not expect your home to sell in a matter of days at asking price. It also means you should be patient. Buyers understand that 30 days on the market is normal; don't automatically lower the price after just two weeks because you're anxious to secure a sale. While housing inventory is increasing, inventory is still low by historic standards, which is good news for you. Have patience, talk with your real estate agent, and it will all work out.
Think: Micro Markets
Micro markets are markets within a market, such as a particular subdivision, development, or neighborhood. Some buyers are prepared to wait until they can buy a home in the micro market they want to live in.
Working with a real estate agent who understands micro markets and is familiar with yours will help you better market your home and target the right buyer. For example, is your micro market in extra high demand because the zoned school system is desirable? In a new development, what percentage of the units/lots have been sold, and has there been any difficulty selling new ones? What's the local economy like?
What this really means is that more than ever, it's very important to work with a Realtor® who not only knows the Charleston market and your micro market very well, but who can effectively market to potential buyers in the area and across the country.
Selling in the Charleston, SC Area? Call Experienced Realtor® Kenton Selvey
If you're thinking about selling your home in the greater Charleston area, give me a call. My name is Kenton Selvey and I'm a Realtor® with William Means who helps people buy and sell their homes on Daniel Island, Mount Pleasant, the Charleston peninsula, and beyond. Whether you plan to sell right away or are just starting the process, I can help every step of the way.