Current Market Conditions
Demand is high and inventory is low. This has been a common theme in 2023 and this will continue.
Inventory of Homes for Sale Inventory has been held low by owners' desire to hold their current low interest mortgages instead of trading them for new mortgages with higher rates (i.e. the "Golden Handcuffs")
Interest rates will remain in the 6.5-7% range for the remainder of the year.
While many of our buyer clients are not as concerned with interest rates, it continues to stop sellers from leaving their homes with a lower interest rate and has priced some buyers out of the market.
40% of Sales in this market are all-cash!
The average Sales Price in Charleston County YTD 2023 is $856K which represents a +7.3% increase from 2022. Daniel Island Ave is $1.7M, and Mt Pleasant (S Connector) is $1.3M. Average Sales price increases continue to be driven by low inventory. The percentage of Original List prices received for August high-price point areas was 93.9% and YTD 95%. Compared to prior years (98%) shows that recent luxury listings may have stretched prices further than buyers would go. This is also shown by Days On Market which have increased by +83% from the prior year. High growth in luxury price zones shows DI Park and other areas again highlight that the key driver of the sales price is "lifestyle" and that luxury sales are not impacted by mortgage rates as 40% of these sales are all cash.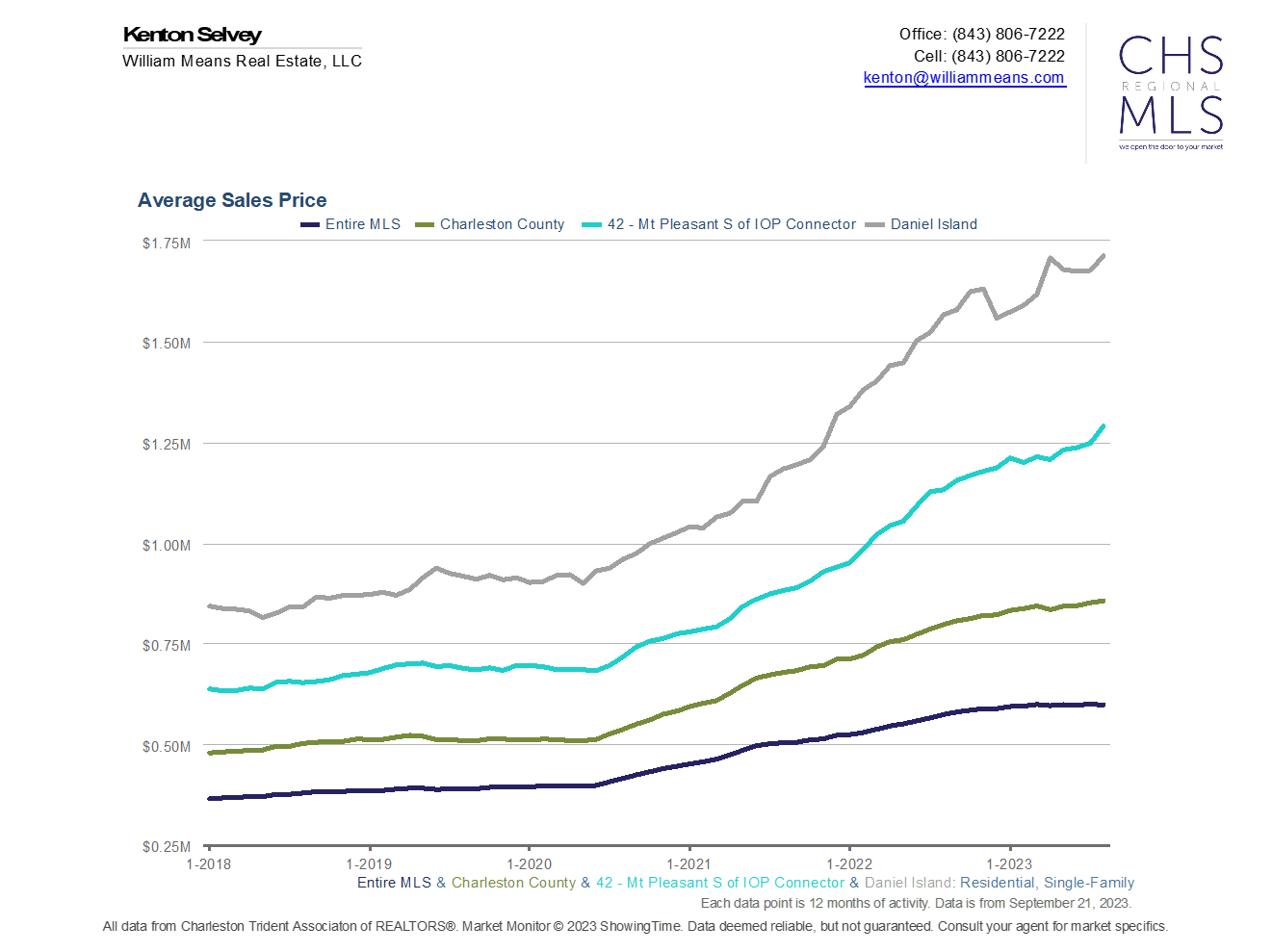 While the Monthly Supply of Inventory is increasing from 2022, this is driven by higher Days on the Market as luxury areas chase higher sales prices. Monthly supply of inventory is up from lows in 2022 – but still very far below more normal levels of 4-5 months of supply of inventory. Total closed sales in Charleston for 2023 are down -25.8% from 2022. Many parts of the country have been hit much harder than Charleston – with some seeing total transactions down over +50%! Experts are forecasting that closed sales will continue to remain close to historic lows through the end of the Spring Market and through the Fall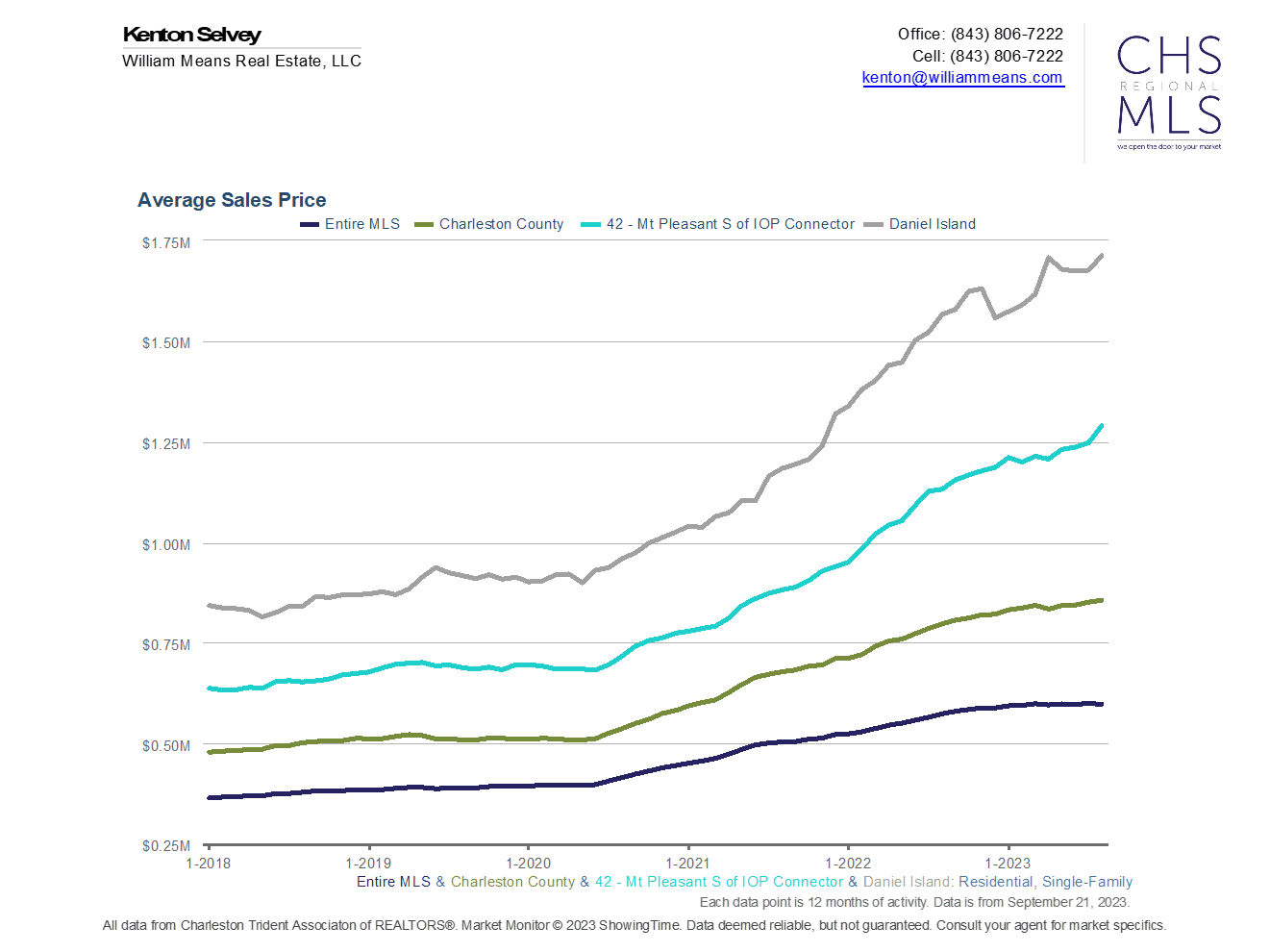 What to Watch for Next
Many experts believe for areas with continued high demand (like Charleston) a shift of interest rates down 1.5% in 2024 ( to 5.5% or lower) could create another boom in real estate.
Many believe that mortgage-led buyers, priced out of the market by high-interest rates, will jump back into the market driving up prices again. For example, Barbara Corcoran recently commented on potential price increases stating, "I wouldn't be surprised if they go up by as much as 10 percent to 15 percent when that happens."
In Washington, D.C. there is talk of a bipartisan bill that would increase the Real Estate Cap Gains tax relief for a primary residence lived in 2 out of the last 5 years to the amounts of $500,000 for single and $1,000,000 for married couples. This would bring a lot of inventory into the market in 2024.
So how do we reconcile these two factors? What does this mean for the Fall 2023 and 2024?
Key Take-Aways
If you are considering selling now is still a GREAT time to do so!! Factors are in play that may impact the extremely low housing inventory levels we have seen in 2023 – so you could have more competition in 2024!
Follow "The More Homes on the Market Act" and consult with your financial advisors if you have significant equity in a home you may wish to sell. And remember – sometimes legislation (even bi-partisan) faces road-blocks in a campaign year.
Buyers should not be deterred to buy in this market if they find the perfect home – prices could be higher in 2024 and there is always the opportunity to refinance or take an adjustable rate mortgage if you believe mortgage rates will drop.
Last few years September, October and start of November have been good selling months. We expect this trend to continue in 2023 – so fingers crossed for a strong end to 2023!